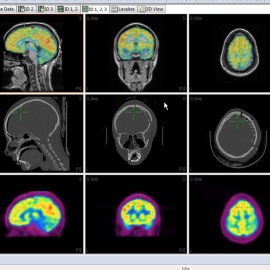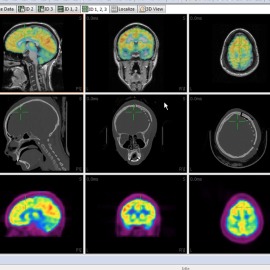 The Image Processing Package of Curry 7 has been designed especially for those users that work primarily with image data. The package offers a set powerful tools for processing medical 3D image data. Images from two or three modalities can be used simultaneously. Automatic co-registration, segmentation, morphological operations, and meshing are available.
In addition by specifying the necessary anatomical landmarks (AC, PC etc.), results can be transformed into Talairach coordinates and extensive anatomical and functional atlas information (Brodmann areas) can be accessed. Talairach coordinates and atlas information are also available without individual image data.
Highlights
Segmentation
Fast 3D Segmentation using robust region-growing or thresholding. Segmentation results can be stored for later use. Depth-buffered display of segmentation results. Automatic threshold estimation.
Interactive Features
Segmentation can be controlled using interactively drawn markers (3D paintbrush), and results of previous segmentations.
Morphological Operations
Manipulation of segmentation results using Dilation, Erosion, Opening, Closing, and Smoothing. Morphological operations are implemented in 3D using spherical kernels.
Automatic Segmentation
Automatic skin segmentation, cortex segmentation, BEM head model generation.
MATLAB Interface
User-written MATLAB code can be called from within Curry for image processing.
Point Lists
Generation of point lists representing segmented surfaces or volumes or voxels, equidistant spacing, with or without surface normals. With DTI FA data, normals encode fiber orientations.
Meshing
Generation of triangle meshes with arbitrary triangle sizes. Electrodes may be included in triangle nets. Triangulation of cortex and other geometrically complex structures. Creation of tetrahedral meshes, cube meshes, high-resolution voxel meshes.
Location Editor
Dipole seeds, locations of simulated dipoles, sensor locations, etc. can be defined, saved, and loaded in a depth-buffered 6-orthogonal views window.
Automatic Electrode System Setup
10/20 or 10% electrode system with selectable electrodes (out of 85) can be computed in a depth-buffered 6-orthogonal views window, using anatomical landmarks and distance measurements along the individual segmented skin.
Automatic ECoG Setup
ECoG grid and strip setup using distance measurements along the surface of the individual brain. Grid and strip dimensions and spacing can be specified.
Manual ECoG Setup
Manual definition of implanted electrodes isolated from CT images in a 3D scenario that can be freely rotated. Manual and automatic labeling.