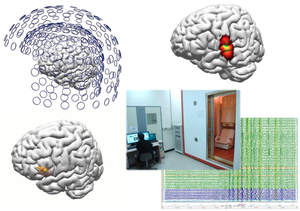 Australia-based Compumedics is pleased to announce a long-term technology transfer and development agreement for production of a state of the art Magnetoencephalography (MEG) system with the Korean Research Institute of Standards and Science (KRISS).
Implementing full integration with CURRY, Compumedics Neuroscan's multimodal brain analysis software, a new generation of brain imaging is now available to the field of Clinical Neuro-Diagnostics. With a complete offering of clinical and research systems, Compumedics Neuroscan is pleased to establish a new standard of diagnostic care for epilepsy.
The next generation Orion Lifespan MEG system provides 50% greater spatial resolution and sensitivity than the traditional market leader and at least 4-5 orders of magnitude in temporal resolution (speed of brain functional or cognitive measures) of traditional functional MRI, PET or other structural brain imaging systems. These capabilities can ultimately enable earlier diagnosis, treatment and management of widespread neurological disorders including dementia disorders such as Alzheimer's, Parkinson's, epilepsy and autism. Thus it improves patient outcomes and importantly also reduces healthcare costs.
Compumedics Neuroscan is the established "gold-standard" in neuro-functional electroencephalography (EEG; scalp recorded electrical brain waves) and the new licensing and technology transfer deal with KRISS, combines the best of class MEG and best of class multi-modality brain source localisation analytics, in order to produce the first of its kind fully integrated multi-modality MEG-EEG Brain imaging system.
We are quoting systems now for delivery by the end of 2016. More information will be posted on our website shortly. In the meantime, you can contact us for more details.