Curry Clin­i­cal School 2015
The recent Curry Clinical School hosted by Dr. John Ebersole was a resounding success. We are now accepting inquires for next year's school (May 29-31, 2015) Source Local­iza­tion in Epilepsy Eval­u­a­tions Space Will Be Limited so Email Us Now to reserve a space.
CURRY Neuro Imaging Suite for Epilepsy Evaluation
CURRY is an ideal platform for combining and processing the various datasets that are obtained from a patient during an epilepsy evaluation. CURRY combines multiple data sets (EEG, ECoG, MEG, MRI, fMRI, CT, DTI, and PET) to ensure the maximum information from the patients complete data set is utilized in making critical decisions. An overview of CURRY for epilepsy evaluation is shown on one of our solution pages.
New Micro­MagLink Validated
The New Micro­MagLink RT system has been vali­dated for clean data acqui­si­tion with Elekta TriuxTM MEG System — More Details!
News

Upcoming Conferences and Events
-
Compumedics Neuroscan will be at BioMag in Halifax, Canada from August, 24-28. We will also be at the Japan ISMRM Conference in Kyoto, Japan, September 18-20. We will also be at the 54th Meeting of the Society for Psychophysiological Research (SPR) in Atlanta, September 10-14, 2014. Clinical Shows include American Epilepsy Society in Seattle, December […]

P50 Sensory gating in infants
-
Online publi­ca­tion by Anne Spencer Ross, Sharon Kay Hunter, Mark A Groth, Randal Glenn Ross from the Depart­ment of Psychi­a­try, Univer­sity of Colorado School of Medi­cine, and Colorado State Univer­sity in which the Nuamps ampli­fier is used for EEG record­ing in infants.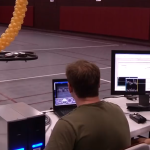 Mind Control of Flying Robots
-
Inno­va­tion Appli­ca­tions for Neuroscan Systems for Mind Control of Flying Robots High­lighted on CNN featuring the Synamps RT amplifier and the Access software development kit (SDK).